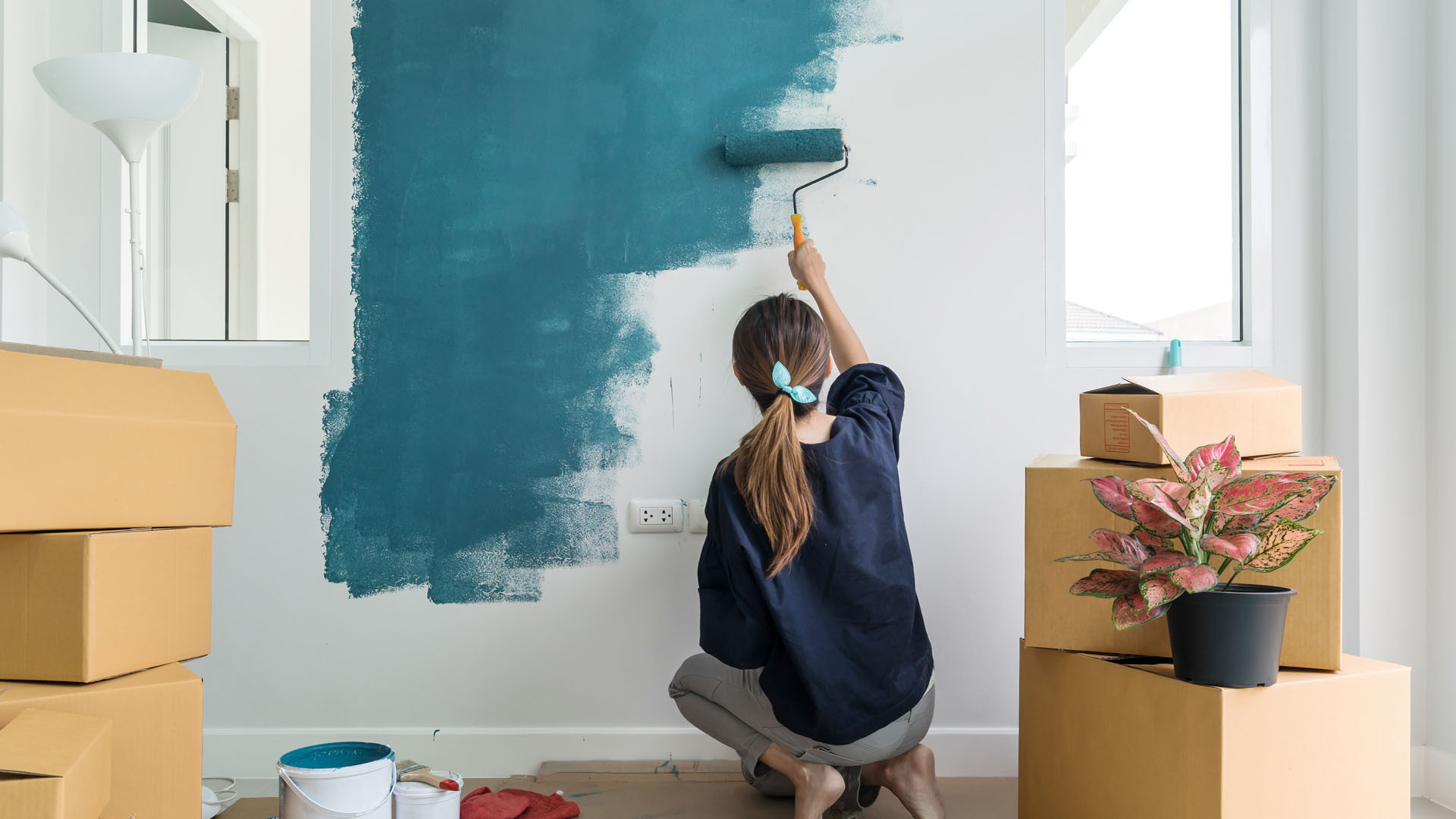 Spring is as good an excuse as any to redecorate your home – indoors and out.  Not only are you motivated to spring clean, you're likely motivated to change your décor as well.   It can be as simple as swapping out throw blankets and pillows or as involved as redecorating entire rooms.  Either way, you'll want the updates to your home to be on-trend, so we've compiled a list of design trends this spring you'll want to implement, both indoors and out.
Color Rules  - What's more symbolic of a zest for life than vibrant colors.  White and neutral interiors may be falling out of favor as more colorful hues appear, even if they just appear in accents.  Saturated wall colors in gorgeous shades of blue such as Ultramarine blue and  Indigo Blue are making a splash.  Indigo, with it's inky color wash give it a casual feel with a breezy neutral color scheme and contrasts well with strong neutrals.
Pastels and Neutrals - Pastels are classic colors and blush, lavender and periwinkle are popular.  When paired with contrasting neutrals, it provides color but does not overwhelm a space with it and can be integrated effortlessly with your existing décor. To make these colors feel fresh and modern, pair them with high-contrast neutrals.  Although gray is a great neutral, you may see less of it this season.  People are incorporating more color so their space doesn't look too clean or sterile.  Black is a high-contrast neutral that is useful for grounding colors and adding depth to any space that you can expect to see fabrics, to natural wood and rugs weaves. 
Vintage - Vintage Designs from all eras are trending this year. Finding vintage pieces, whether at your neighborhood garage sale, consignment shop, or a family heirloom not only create dynamic spaces, but they facilitate story telling about the design, the piece and where you found it.  
People are less interested in coordinated spaces and matching furniture sets as they have been in the past. They prefer to simply incorporate unique pieces, heirlooms or items they love into their spaces.  While vintage looks are trending, you don't have to go totally vintage.  Mix the old with the new to create an interesting balance of tones, textures and colors.   
Heritage Fabrics - Looking to reupholster a sofa or chair? Your fabric of choice may be a blast from the past, as textile houses are looking to their archives more than ever this season. Bold, floral fabrics that were popular in the '60s and '70s are gaining in popularity and are perfect for Spring.   But don't rule out the '80s - monochromatic themes like earthy paint colors, glass lighting and bold, textured rugs are making a comeback too.  
Florals - Floral and botanical prints and natural textures are bringing the garden into the home.  They are timeless and pair well with different styles already in your home. But it's not just florals making a comeback—produce motifs like raspberries, blackberries, apples, and lemon are showing up on plates, mugs, as candle shapes and more.   
Handcrafted accessories - Handcrafted items is a popular trend that is fueled by a desire to incorporate unique pieces that add character to a home and offer authenticity and craftsmanship that can't be found in mass-produced items.  Handwoven textiles, pottery, and woodwork are showing up in boutique shops and people's homes. 
Choose Sustainable Options - There has been a growing trend to incorporate sustainable materials driven by a desire to minimize the environmental impact and to create healthier more eco-friendly living spaces.   Incorporate sustainable materials such as reclaimed wood, bamboo, and recycled glass in flooring, furniture, and decorative accents.   
Bold lighting - Bold lighting and light fixtures are becoming increasingly popular because fixtures can add a striking focal point to any room.  From sleek and modern to ornate and traditional, lighting allows for a wide range of styles to be incorporated into any space. Additionally, bold lighting can enhance other design elements, such as wall colors and textures, creating a cohesive and visually stunning space.
Embrace Curves - Curves are making a resurgence as they add a sense of softness and fluidity to a space. From curved furniture, to rounded archways and curved walls, this trend is all about creating a more relaxed and comforting atmosphere. Whether it's a subtle nod to the Art Deco era or a modern take on organic shapes, curves can add a touch of elegance and sophistication to any room. Plus, they offer a refreshing break from the often harsh, straight lines that dominate many interior design styles.
Incorporate earth Tones - The use of earth tones in home interiors is becoming increasingly popular. Natural colors such as brown, beige, green, and warm gray, create a warm and calming atmosphere and can be combined with other colors to create a variety of looks, from modern and minimalist to rustic and cozy.  This trend also emphasizes the use of Earth tones in natural materials like wood, stone, and plants to bring the outdoors inside. Using earth tones is a great way to create a peaceful environment that connects us to nature.
Indestructible Fabrics - Everyone wants indestructible fabrics – particularly for outdoor living spaces.   There are a variety of options that mimic natural fabrics, but are outdoor-rated, stain-resistant, and high-performance materials. Couple that with stain-resistant, washable rugs, and you can have outdoor spaces that do not sacrifice function for aesthetics. Many of these materials are made from recycled plastic and are part of the trend toward sustainability and repurposing.
Soft- Modern design - There is a growing demand for modern kitchen design. However, the demand is for a softened design that offsets the cold, impersonal feeling commonly associated with modern kitchens. A soft-modern kitchen layers warm elements and contrasts to soften the room. For example, contrast high-gloss finish white cabinetry with a matte wood finish on open shelving or accent panels. 
Go For the Gold - Gold is back. From lighting fixtures to cabinet hardware and accessories, gold is making a comeback. And mixing metal finishes is also becoming widely accepted.  The rule of sticking to only gold, silver or nickel is outdated - mixing and matching feels eclectic and more personal. An easy way to mix metallics is to mix it in picture frames, art framing, figurines and lamps. 
Out with Heavy - As we ease into summer, it's time to ditch heavy fabrics and replace them with breezier textiles, like cottons and linens in more vibrant colors.  Along with lighter accents, casual, woven furniture like rattan and woven wicker furniture naturally lends itself to the relaxed feeling of spring and adds warmth and texture to indoor and outdoor spaces.   
Quick Fixes - Getting ready to host a special event this spring?  Paint colors, statement walls, lighting fixtures, and fun rugs are quick, easy and inexpensive ways to update your space and get it party ready.  Statement rugs are popular for both indoor and outdoor spaces and with so many options available you can add color and texture to any room.    
Fresh Flowers - More than any other time of the year, a fresh bouquet of flowers in a must in spring.  A simple bouquet featuring one type of flower can be stunning.  Repurpose your JAWS spray bottle – it's a perfect vase for your spring flowers.
Maximalism over Minimalism - Maximalism will replace minimalistic styles as people incorporate more fun and creativity in their spaces.  Maximalism moves away from the simple, clean lines of minimalism and embraces bold and bright.   It's not about clutter – its about adding creative accessories and accents such as decorative wallpaper, gallery walls, fun pillows, and retro-style candles.  
Spring decor trends come and go, so be careful not to overdo anything.  Less is more and looks simpler, cleaner and better!  To keep your new look clean, use JAWS, Just Add Water System Cleaners.