Get a deep clean with our heavy-duty bathroom cleaner with rich foaming action.
Sometimes the smallest room needs the biggest cleaner - but not the heavy fragrance.  If you want a deep clean, without having to open the window to ventilate the room, try JAWS Foaming Bathroom Cleaner. (The Foaming sprayer is included in the Starter Kit.  The Foaming Sprayer is essential to this cleaner)
Let the foaming action of this heavy duty cleaner do the dirty work.  The ultra-rich foam clings to vertical surfaces, corners and crevices such as shower walls and doors allowing the cleaner to remain on vertical surfaces longer than traditional cleaners.  JAWS Foaming Bathroom cleaner dissolves and emulsifies water spots, soap scum, and mineral deposits leaving a sparkling shine and a fresh clean scent.  Cleaning bathrooms isn't always pleasant – but the light lavender fragrance is!   
Plus, with JAWS refillable bottle and refill pods, you save money, space and reduce plastics in landfills.
EPA Safer Choice Recognized and unbeatably effective. With JAWS Foaming Bathroom Cleaner you'll get more clean and with less work.   
Order JAWS Foaming Bathroom Cleaner
* Refill pods are patented and work with JAWS bottles only.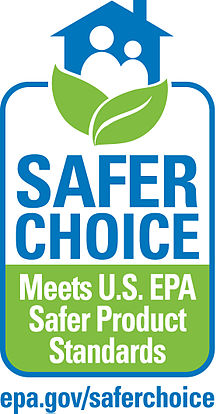 Where To Use Foaming Bathroom Cleaner
All JAWS products are safe for hard surfaces not harmed by water. Compare all JAWS products to find the one that fits your needs!
Bathroom fixtures
Grout
Shower curtains
Shower doors
Shower walls
Toilets and tubs
Urinals
Wash basins
Please Note: Do not use this product on marble or natural stone
Directions
Pretest on surface prior to use.  Do not use if discoloration or damage occurs.  Lightly spray surface from 6 – 8 inches and wipe with a cloth.  Scrub as necessary.
Do not use on marble surfaces.
Ingredients
Refill. Reload. Reuse.
When your first JAWS spray bottle is empty, you simply refill, reload, and reuse!
1. Refill
Fill your reusable bottle with tap water.

2. Reload
Pop in a new JAWS refill pod.

3. Reuse
Twist the sprayer back on and go!