The best granite cleaner you'll ever use.
Granite Cleaner & Polish
Tired of the hazy film and streaks that cleaning products leave behind on your beautiful granite countertops? JAWS Granite Cleaner & Polish is streak free and won't leave a hazy residue! This fragrant, EPA Safer Choice Certified product is safe for all natural stone surfaces and enhances the natural shine while leaving surfaces glossy, smooth and glistening.  It is Ideal for high-traffic kitchen countertops, and bathroom vanities. Alcohol and ammonia free, JAWS Granite Cleaner & Polish is neutral pH and leaves behind a fresh cucumber-basil fragrance. 
JAWS Granite Cleaner & Polish has the Safer Choice Label
THE ORIGINAL REFILL POD CLEANING SYSTEM: Our technology has saved over 40 million bottles from landfills!
JUST ADD WATER: Fill the JAWS Reusable Bottle with water, insert the JAWS Refill Pod and apply the trigger sprayer to release concentrate.
CHILD-RESISTANT REFILLS: Includes 2 Refill Pods of our Granite Cleaner.
PERFORMANCE: Works on granite, marble, concrete countertops, quartz & other sealed natural stone surfaces.
STREAK-FREE: Our streak-free formulas save you time as you don't have to go over and over the same spot.
ECO-FRIENDLY CLEANING SYSTEM: JAWS Refillable Spray Bottles and Refills reduce plastic waste by 83% vs traditional spray bottles.
EPA SAFER CHOICE: The JAWS Granite Cleaner is EPA Safer Choice and safe for use around kids and pets.
LIGHTLY SCENTED: A wonderful cucumber basil fragrance.
ALCOHOL & AMMONIA FREE
Order JAWS Granite Cleaner & Polish
* Refill pods are patented and work with JAWS bottles only.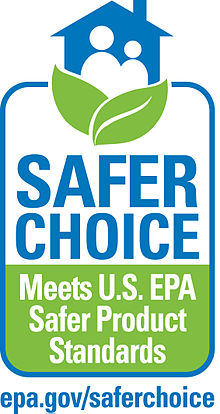 Where To Use Granite Cleaner & Polish
All JAWS products are safe for hard surfaces not harmed by water. Compare all JAWS products to find the one that fits your needs!
Countertops (Corian®, Formica®, granite, laminate)
Marble
Quartz
Sealed granite
Sealed marble
Sinks
Stone
Please Note: Do not use Daily Shower or Bathroom Cleaner on marble or natural stone
Directions
For most surfaces, simply spray on JAWS Granite Cleaner & Polish and wipe with a soft cloth for a streak-free shine. Pretest on surface prior to use. Do not use if discoloration or damage occurs. Spray surface and then wipe clean with lint-free towel or cloth.
Ingredients
Refill. Reload. Reuse.
When your first JAWS spray bottle is empty, you simply refill, reload, and reuse!
1. Refill
Fill your reusable bottle with tap water.

2. Reload
Pop in a new JAWS refill pod.

3. Reuse
Twist the sprayer back on and go!