Tough on germs, but easy on household surfaces – and your nose.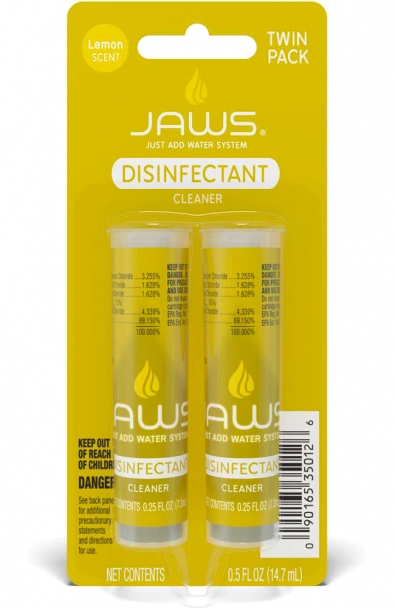 Can a cleaning product smell great and still get the job done? It can if it's JAWS® Disinfectant Cleaner! This no-rinse, neutral pH cleaner kills the germs, while it leaves behind a fresh lemon fragrance and beautiful shine. And it does all this in one time-saving step. It's ideal for disinfecting many of the most germ-inhabited surfaces in your home, such as doorknobs, toilet bowls, garbage cans, and bathroom fixtures. In addition, this disinfecting cleaner makes shower doors, curtains, and cabinets shine.
Plus, when used as directed, it inhibits the growth of mold and mildew, which can cause those not-so-pleasant odors in kitchens, bathrooms, and around garbage storage areas!
Disinfects against Human Coronavirus (10 minute contact time)
Disinfects against SARS associated Coronavirus. (10 minute contact time)
* All JAWS Products are non-toxic EXCEPT the Disinfectant Cleaner.
Order JAWS Disinfectant Cleaner
* Refill pods are patented and work with JAWS bottles only.
Where To Use Disinfectant Cleaner
All JAWS products are safe for hard surfaces not harmed by water. Compare all JAWS products to find the one that fits your needs!
Appliance exteriors
Appliance interiors
Bathroom fixtures
Cabinets
Ceramic tile
Chrome
Countertops (Corian®, Formica®, granite, laminate)
Desks
Doorknobs
Exercise equipment
Exercise mats
Fiberglass
Garbage cans
Glazed ceramic
Glazed tiles
Laminate flooring
Laminates
Linoleum
Lucite®/Lexan®
Mirrors
Non-food contact areas
Plastic
Plexiglas®
Porcelain tile
Quarry tile
Range hoods
Restroom fixtures
Sealed fiberglass
Shower curtains
Shower doors
Shower walls
Sinks
Stovetops
Tables
Telephones
Terazzo
Toilets and tubs
Urinals
Vinyl
Walls
Wash basins
Washable non-porous surfaces
Directions
For general cleaning, apply JAWS Disinfectant Cleaner to soiled area. To disinfect, allow to remain wet for 10 minutes then remove excess liquid. Follow the directions for use on the pesticide label when applying this product.
Ingredients
Water, Chelate, Nonionic Surfactant, Citric Acid, Cationic Surfactant, Fragrance, Colorant.
Refill. Reload. Reuse.
When your first JAWS spray bottle is empty, you simply refill, reload, and reuse!
1. Refill
Fill your reusable bottle with tap water.

2. Reload
Pop in a new JAWS refill pod.

3. Reuse
Twist the sprayer back on and go!