The best streak-free glass & window cleaner you'll ever use.
Best Glass Cleaner
We can't help but brag (a little) about our ammonia-free glass cleaner. In a test conducted by The Good Housekeeping Institute, JAWS® (Just Add Water System™) glass cleaner was the only one of 17 cleaners to leave no streaks behind.
Not only that, it was the Winner of the 2015 Progressive Grocer Editor's Pick Award. 
Plus, with JAWS refill pods, you'll get eco-friendly cleaning products that save you money and reduce plastics in landfills – it's a win-win for you and the environment!   
Improve your view. Purchase JAWS Glass Cleaner today! The JAWS Cleaning Wand Kit is now available!
The JAWS Glass Cleaner is EPA Safer Choice Certified.
THE ORIGINAL REFILL POD CLEANING SYSTEM: Our technology has saved over 40 million bottles from landfills!
JUST ADD WATER: Fill the JAWS Reusable Bottle with water, insert the JAWS Refill Pod and apply the trigger sprayer to release concentrate.
CHILD-RESISTANT REFILLS: Includes 2 Refill Pods of our Glass Cleaner.
VERSATILE: Works great on windows, stainless steel, electronics, eyeglasses, mirror and more.
STREAK-FREE: Our streak-free formulas save you time as you don't have to go over and over the same spot.
ECO-FRIENDLY CLEANING SYSTEM: JAWS Refillable Spray Bottles and Refills reduce plastic waste by 83% vs traditional spray bottles.
EPA SAFER CHOICE: The JAWS Glass Cleaner is EPA Safer Choice and safe for use around kids and pets.
ALCOHOL & AMMONIA FREE
Order JAWS Glass Cleaner
* Refill pods are patented and work with JAWS bottles only.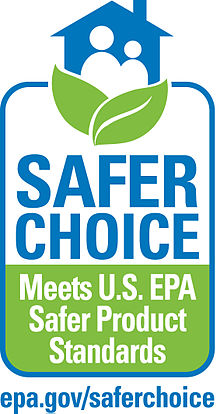 Where To Use Glass Cleaner
All JAWS products are safe for hard surfaces not harmed by water. Compare all JAWS products to find the one that fits your needs!
Appliance exteriors
Bathroom fixtures
Cabinets
Ceramic tile
Computer monitors & LCD TV screens**
Countertops (Corian®, Formica®, granite, laminate)
Doorknobs
Electronic device screens**
Fiberglass
Glazed tiles
Laminates
Lucite®/Lexan®
Mirrors
Plexiglas®
Quartz
Sealed marble
Sealed wood surfaces
Shower doors
Shower walls
Stainless steel
Walls
Windows
Please Note: Do not use Daily Shower or Bathroom Cleaner on marble or natural stone
Directions
For most surfaces, simply spray on JAWS Glass Cleaner and wipe with a soft cloth for a streak-free shine. Pretest on surface prior to use. Do not use if discoloration or damage occurs. Spray surface and then wipe clean with lint-free towel or cloth.
**For electronics, spray directly onto a lint-free towel or cloth and wipe gently.
Ingredients
Refill. Reload. Reuse.
When your first JAWS spray bottle is empty, you simply refill, reload, and reuse!
1. Refill
Fill your reusable bottle with tap water.

2. Reload
Pop in a new JAWS refill pod.

3. Reuse
Twist the sprayer back on and go!