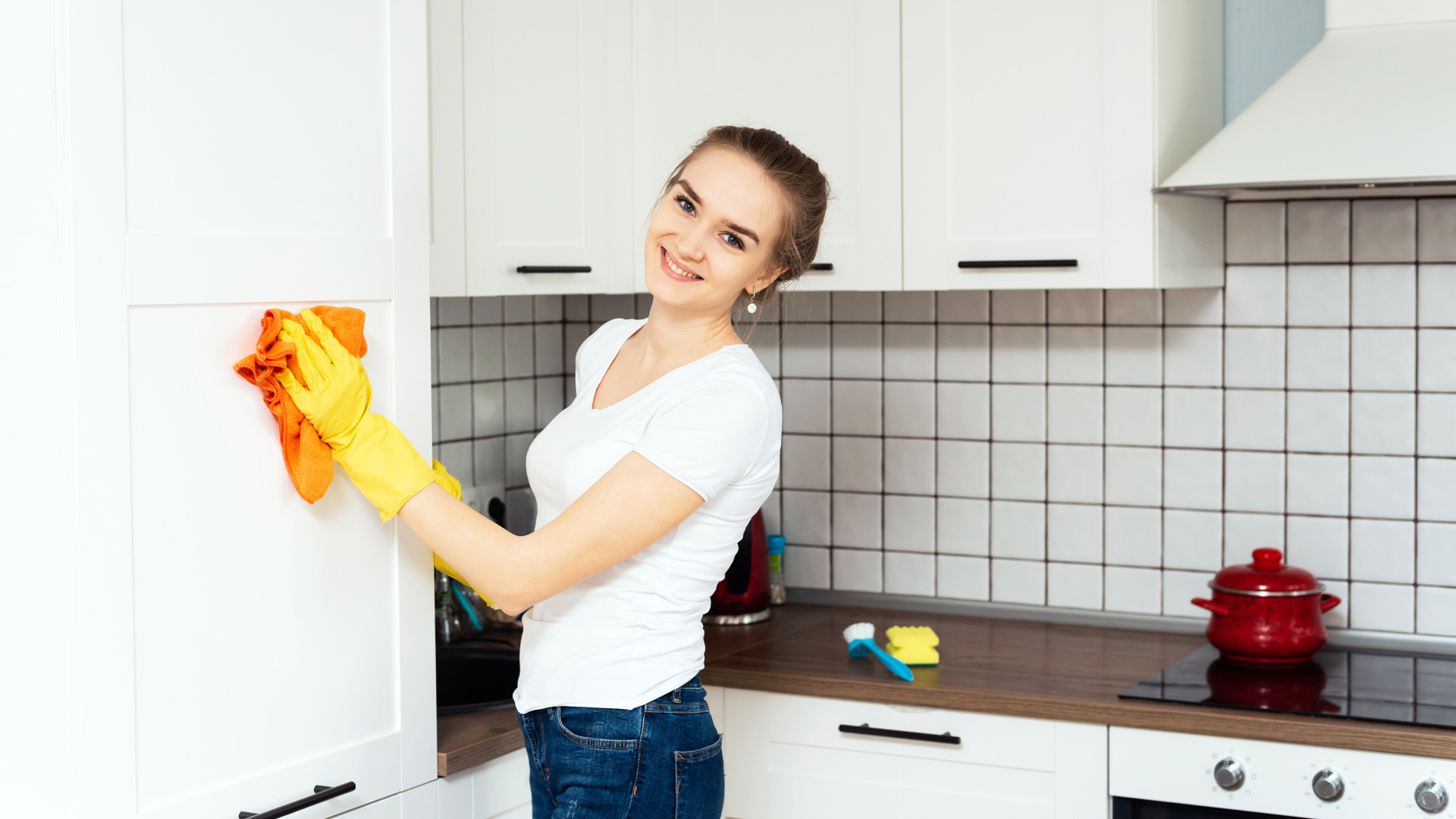 You just installed new cabinetry, countertops, backsplash, and appliances in your kitchen and you couldn't be happier. The textures, wood selection, finish and hardware are all perfect—and your kitchen has never looked more like a page out of your favorite magazine. Sound like a dream? The reality is, even if you have the most beautiful kitchen in the world, messes happen!  Be prepared for everyday kitchen messes, while protecting the beauty and integrity of your new kitchen cabinets.  JAWS Kitchen Cleaner can help you maintain a picture-perfect kitchen year round. Here are a few helpful tips to keep your kitchen sparkly clean year-round.
Rethink the Damp Cloth 
Many of us may instinctively reach for a damp paper towel or cloth before bringing out our household cleaners thinking it will help minimize the mess and maximize the effectiveness of our cleaner. Since grease and water do not mix, this could effectively spread the grease around your kitchen surfaces and leave more of a mess than you originally had! With valuable wood cabinets, rubbing the grease spill or splash with water could even damage the surface and make it more difficult to clean. If you first tackle the grease spot with a gentle degreaser, you can use a damp microfiber cloth or paper towel to wipe away cleaner leaving your cabinets looking clean and new.
Use a Minimal Amount of Cleaner
Gentle cleaning strokes, paired with a non-abrasive cleaner can effectively eliminate grease from your cabinets, without leaving streaks or potential damage. If you soak your cabinets with cleaner every time you clean, you can run the risk of damaging the finish or paint job on the cabinets.
Avoid Spraying Your Cabinet Hinges and Hardware 
Non-abrasive cleaners may leave your cabinet surfaces in pristine condition, but many of them can cause rust in your metal kitchen hardware and hinges. It is recommended to clean the hardware and hinges of your cabinets with a dry microfiber cloth to avoid this.
Rethink the way you clean. Combine high-performance, non-toxic household cleaners with refillable, reusable bottles spray.  JAWS offers several household cleaners that are ideal for the kitchen including JAWS Kitchen Cleaner.  This fast-acting degreaser for kitchens will leave surfaces streak-free without harming granite, stainless steel, or other modern surfaces.  It's great for wiping down kitchen cabinets and even barbeque grills.