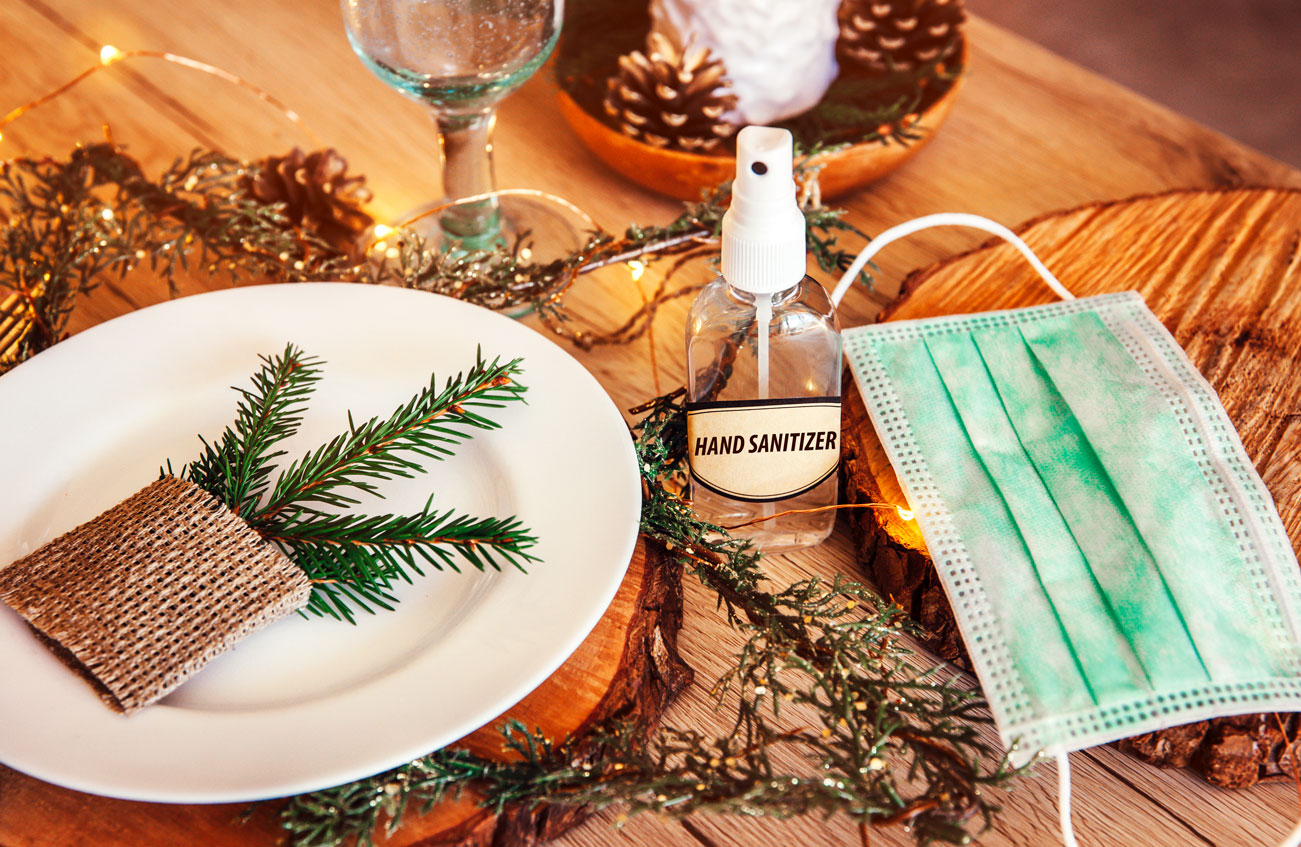 As we prepare to gather with family and friends this holiday season, concerns of the COVID-19 pandemic prevail.  While this pandemic is stressful and isolating for many, we've been looking forward to holiday gatherings to reconnect with family and friends, whatever the set-up may be.
Whether you're the host or a guest, consider how your holiday prep and cleaning practices can help reduce the spread of COVID-19. Our JAWS team listed the steps we are taking at our gatherings and we are sharing the more unconventional ones.  We all know to clean and disinfect frequently touched surfaces such as countertops and bathroom fixtures, wear masks and social distance - but here is our list of tips that you may not have thought of: 
Clean and Disinfect entryway door handles, door knobs and door bells.  Everyone from the pizza delivery person, your guests and your family members have touched these surfaces.  Don't forget to disinfect the handrails.  
Place hand sanitizer throughout the house -  At the front door, in the kitchen, restrooms, great room and next to any serving tables.
Disinfect the bottom of your shoes after entering your home, particularly if you've been out in public.  Consider providing shoe covers for your guests.
Will your entertainment include games?  Keep disinfecting wipes or spray disinfectant on hand to disinfect game pieces such as dice, cards, poker chips.  Make sure each player has access to hand sanitizer.
Will you be watching a big game, holiday movie or playing video games?  Be sure to disinfect remote controls, game console controls and mobile computer screens.  Consider designating one person to be in control the remote. 
Sanitize your Serving Utensils –Ice tongs, serving spoons, carving knives and lids on dishes.
Reconsider a buffet style spread or passing dishes around the table.  Instead, pre-package servings in self-contained  packages OR designate one person to serve each dish. 
Will you be serving drinks?  Disinfect the bar tools including bottle openers and liquor bottles.  In lieu of a self-serve bar, designate a family member as bar tender to reduce the number of people touching bottles and bottle openers.
Spread people out.  Don't seat everyone at the same table - the children's table isn't just for children this year.  Place tables around the house and consider using the garage or patio.   
Disinfect the bathroom then place a spray disinfectant or wipes on the counter for your guests to disinfect after they use it.  Ditch your holiday hand towels and replace them with holiday paper towels.
If you're heading to a friend's home, sanitize your hands after touching car keys, car doors or gas pumps.  Use a Non-Touch Door opener to open doors or touch gas pump or ATM screens.   
Keep the music at a level where people don't need to get too close to hear one another 
Encourage guests to stay home if they aren't feeling well, and don't hesitate to cancel if you aren't feeling well.
 Open a few windows to let fresh air circulate.  If you can't take your gathering outside, let the outside air in.
A few minor tweaks to your traditional holiday gathering may make all the difference for a healthy and Safe Holiday Gathering.
Happy Holidays!