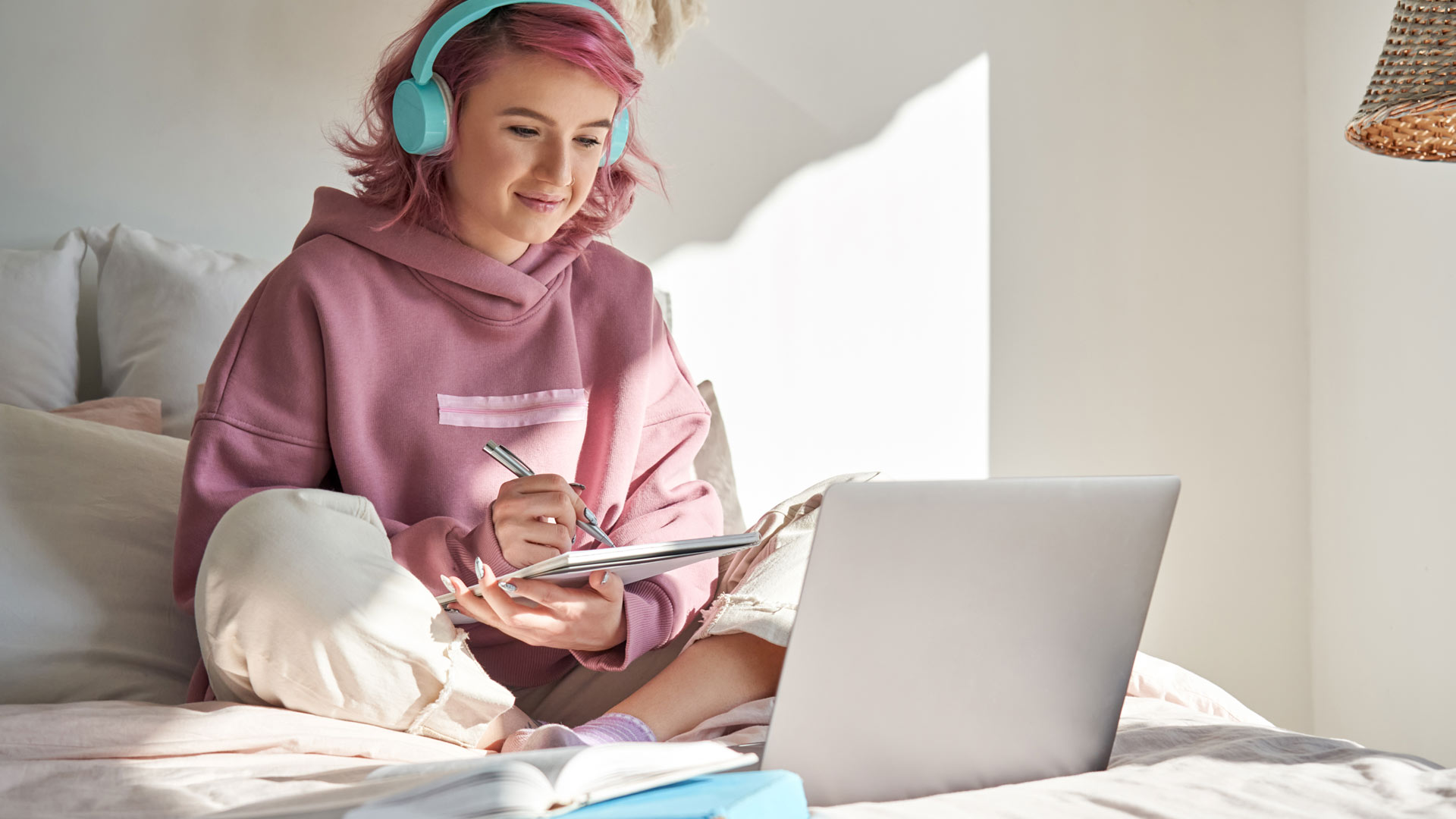 For many college students heading back to school it's time to set up a dorm room or off-campus apartment.  Either way, you're likely to share VERY limited space with one or more roommates.    With a little creativity and careful planning, you can organize your dorm or apartment to maximize your space.  We scoured the internet and found these helpful room organization and planning ideas.
Loft or no Loft? Depending on the size of the room, maximizing floor space may be accomplished by lofting the beds. If lofting the beds, different supplies may be needed and the resident assistant should be able to tell you where to go for these supplies.  Once you've completed lofting the beds, you may realize that access to some of your things may be a bit more difficult. Low ceiling clearance and trips up and down the ladder make a bed skirt organizer a must-have.  Bed skirt organizers can be a great place to store: Smartphone and accessories, Medications, tissues or TV remote
Bed risers. If you decide not to loft the beds, floor space may be an issue.   Bed risers can be used to raise the height of the bed, providing more storage underneath.  Some bed risers even come with USB ports and outlets. 
Utilize Storage Under the Bed   Almost anything from shoes and bulky sweaters to cleaning supplies can be stored under the bed. Look for low-profile under the bed bins, boxes, drawers or bags that slide easily - or even have wheels - to make them easy to access. If you're worried about the space under your bed looking cluttered, the bed skirt organizer can hide your storage!
Focus on Multi-Use Furniture  Most dorm rooms are furnished with beds, dressers, and desks. If you need extra seating, choose multi-purpose pieces to maximize your space. Instead of adding chairs to your dorm room, opt for storage ottomans that provides seating and doubles as hidden storage. 
Take Advantage of Vertical Storage Space.  Over-the-door shoe racks, towel racks, hanging baskets and hooks are perfect for storing everything from accessories, like scarves, mittens and socks to cleaning supplies.  Over-the-door shelves are also a great way to store toiletries, media or even food items.  You can purchase different bin sizes to fit your storage needs.
Your desk provide extra storage with the addition of a hutch - it will help maximize the wall space and provide additional storage space for textbooks, supplies and electronics.  Wire shower caddies with command hooks are also a way to store pens, notebooks, stationary, and on the side of your desk
Utilize Above Bed Shelves   Storage space in your college dorm room isn't always easy to come by.  Add over-the-bed shelves to keep everything up and out of the way! Some are designed for twin beds and allow space for a small headboard.  These are great for storing or displaying lighter weight  items like decorative items and photos.  
Make the Most of Your Closet Space  Whether your dorm room has an actual closet or a wardrobe cabinet, there are a few ways you can maximize your dorm closet space. Skip the bulky wooden hangers and use space-saving hangers like thin felt hangers. Use hanging closet organizers to store sweaters, jeans, and shoes. Make sure to leave enough space for a dirty clothes hamper.  To keep the closet less cluttered, take clothes that are appropriate for the season then trade them out when you go back home for holidays and breaks.
Designate a Kitchen Area You probably want a mini fridge, microwave, and coffeemaker in your dorm room. Set up a kitchen station using a rolling utility cart or adjustable cube storage where you can keep appliances and other kitchen items together. Don't forget to add storage baskets to keep snacks, coffee, and utensils organized,  Other items you might want to store are mugs, plates & bowls, utensils, paper towels, and a snack bowl. Be sure to keep a Disinfectant Cleaner or Multi-Purpose cleaner nearby to clean up any spills and messes. 
Create an Entertainment Center   If you have a small TV, you can save desk or dresser space by making a TV stand with cube shelves! Simply stack the cube shelves and place the TV on top. Cubes also make it easy to store a DVD player, game console, movies, and more.
Create Bathroom Storage  If your dorm room has its own bathroom, you may have to get creative with storage since your roommate or suitemates will need space too. Small stacking bins fit well under sinks or in small cabinets and they're perfect for storing toiletries like toothpaste, deodorant, soap, styling products, and medications.  If you are responsible for keeping your bathroom clean, you'll want to store refill pods of JAWS Daily Shower Cleaner and Disinfectant Cleaner in small storage bins or your bath caddy so you never run out of cleaning supplies.   
Be Prepared with Random Items  Fill several bins with items you won't need every day, but will be glad you have them when you do. 
Medicine & first aid supplies: band aids, antibiotic ointment, nail clippers, cough drops, cold medicine, Advil and Tylenol, thermometer, Pepto Bismol, and Tums.  
DIY tool kit: you never know when you will need a few tools, both on move-in day and throughout the year.  Duct tape, masking tape, packing tape, scissors, nails, hammer, screwdrivers, pliers, and a measuring tape may all come in handy.
Random Necessities: flashlight, extra batteries, small sewing kit, safety pins, stamps, a roll of quarters for laundry, scotch tape, stapler, hole punch, paper clips, glue stick, ruler.
Noise cancelling headphones for getting your reading and studying done. 
"White noise" sound machine so your roommate(s) won't wake you up.  
Cleaning products including a broom and dustpan, large trash bags, paper towels, and spray cleaners.  JAWS Multi-Purpose Cleaner, Daily Shower Cleaner and Disinfectant cleaners should cover most of your cleaning needs.  JAWS refillable cleaning system comes with refill cartridges that are so small you can easily store them and you'll have enough cleaners to last the full school year. 
Washi Tape.  This fancy masking tape works great for decorating dorm rooms. It comes in  different patterns and doesn't have a damaging adhesive. You can use it to hang pictures, decorate with it.  You can even write on it! 
Power Strips – You not have enough electrical outlets, or outlets aren't positioned where you need them, so be prepared with power strips. 
Air fresheners – You'll use your dorm room for than sleeping.  Hide the smell of burnt microwave popcorn, dirty laundry and spilled beer with a good air freshener. This can help eliminate the odors so you can actually enjoy hanging out in your dorm room.
Command Hooks -  Adding command hooks to walls and doors is a dorm storage must. Strong, durable, and easy to install, command hooks are incredibly versatile! Use them to hold your keys near the door, hang up towels inside closet doors, or to hang photos on the walls.
However you personalize you home-away-from-home, make it as comfortable, cozy and organized as possible.  Of course, we encourage you to keep it clean.  Most importantly, enjoy this school year.