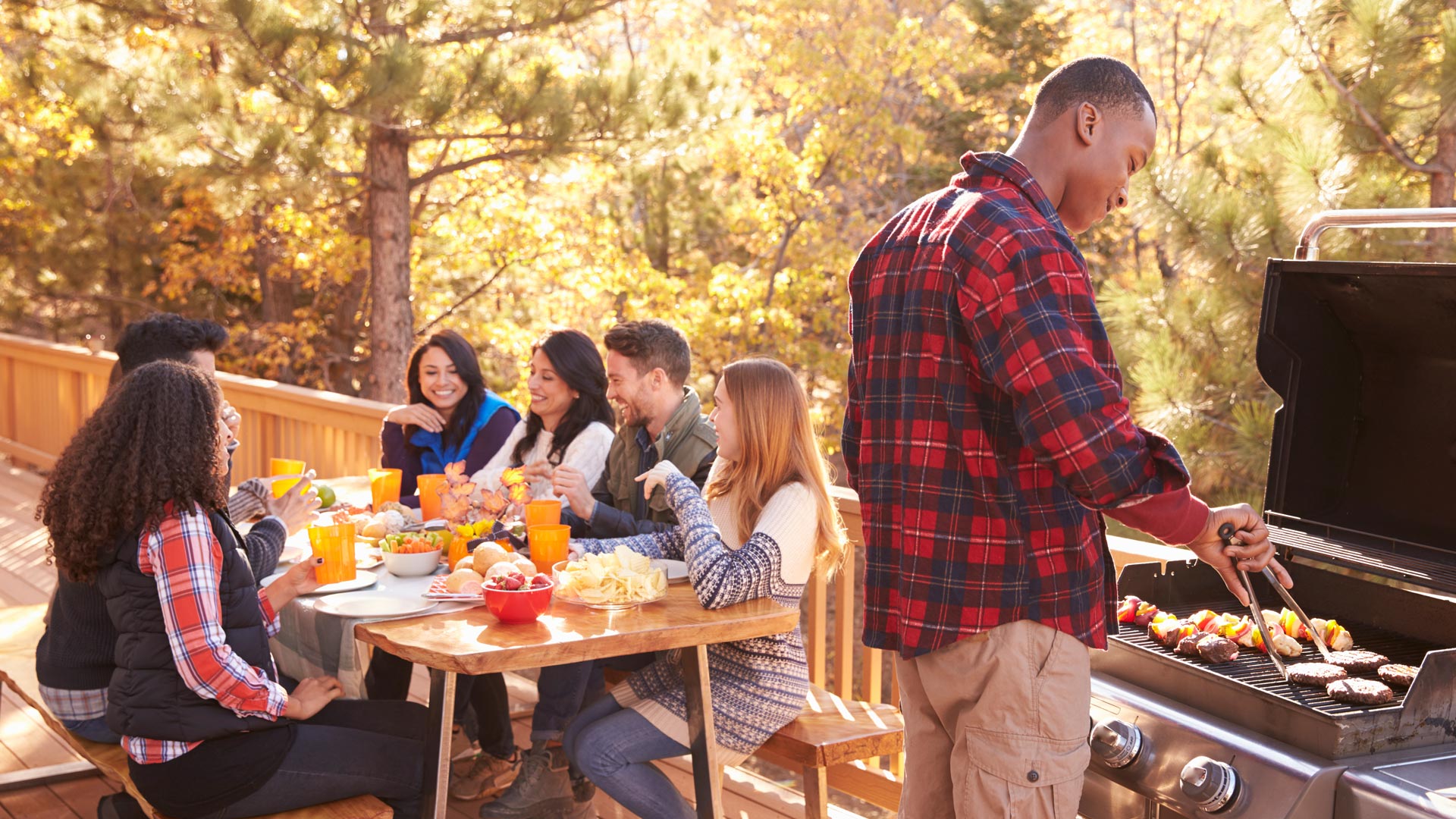 As we transition into fall, it's time to tackle the indoor and outdoor chores to get ready for winter. It's also a good time to start getting your home ready for the upcoming holiday season.   
If you follow a spring cleaning checklist, you may benefit from a Fall Cleaning Checklist.  Start with the outdoor tasks and then move indoors as the weather becomes colder. Here's a suggestion of the areas and items you should clean, inspect, or service this fall. 
Clean and store outdoor furniture - pick a dry day and give outdoor furniture a good cleaning before moving it into storage. Make sure to treat stains, because allowing them to remain on upholstery fabrics over the winter will make the task extremely difficult in the spring.  Use JAWS Multi-Purpose or Kitchen Cleaner to remove dirt, bug and bird stains from you're your outdoor furniture.
If you don't store the furniture indoors, protect it with weatherproof covers and put a tarp under metal furniture to help prevent rust stains on the patio. 
Service lawn and garden equipment – Before you put away your lawn and garden tools for the winter, give them a good cleaning and make any needed repairs.   JAWS Kitchen Cleaner or Multi-Purpose Cleaner are great for removing grease and dirt. 
Clean gutters and downspouts – Everyone loves the color of Autumn leaves—until they fall on roofs, gutters and downspouts. Gutters filled with leaves and pine straw can cause moisture and mildew problems on soffits, resulting in rotting wood and roof leaks.  Clean them after the leaves stop falling and before the winter weather arrives.
Wash exterior and interior windows – Fall is the perfect time to wash the windows. Start with the outside, and if you can, wash them after the gutters are cleaned.  Try JAWS Glass Cleaner – spray and wipe clean with a paper towel, then use a micro-fiber polishing cloth to make windows really shine!  Be sure to remove the screens and give them a good cleaning as well.
When cleaning the interior windows, freshen up the window treatments as well. This is the perfect time to dust blinds shades and wipe down window sills.
Clean the Grill – Turn the grill on high heat for approximately 20 minutes to allow excess grease and fats to burn off.  Let it cool to a warm temperature and then spray the grates, drip pan and propane tank with JAWS Kitchen Cleaner and wipe them clean before covering it up for the winter.
Complete an outdoor home inspection - Before the weather turns cold, walk around the perimeter of your home and look for areas that need to be winterized or repaired. If you don't know much about home repairs, hire a professional inspector to help you.
Inspect the roof for cracks or loose shingles.  Make repairs before winter snow, wind, and rain cause leaks.
Consider pest control to prevent mice, rodents and insects from seeking shelter inside your home or garage.
Inspect the foundation to look for any cracks
Check windows and doors for broken seals and replace damaged caulk for more energy efficiency.
Schedule routine maintenance for your furnace - In addition to having an HVAC technician check your heating system and clean the air ducts, be sure to change the air filters regularly to improve the air quality of your home and reduce the wear and tear on your furnace.
Sweep and inspect chimneys and fireplaces – Your chimney should be cleaned and inspected annually.  This will help protect your home from accidental fires caused by creosote build-up. If you did not clean the interior fireplace surround at the end of last winter, do it now. Waiting another season will just add to the build-up of soot and make cleaning even more difficult.
Gas fireplaces, logs and glass screens should also be cleaned so that they are safe and ready for use.  JAWS Glass Cleaner is great to use on the glass screens. 
Change smoke detector batteries -  A change of seasons also signals it's time to change batteries in smoke and carbon monoxide detectors. A great time to change them is when we "fall back" and  change our clocks. 
Clean and reverse ceiling fans - If the ceiling fans have been running all summer, it's time clean the blades . Reverse the direction so the warm air will be directed downward to keep you warmer during colder season.
Deep-clean inside the house - Fall represents the final stretch before the cool-weather holidays: Halloween, Thanksgiving, Ramadan, Hanukkah, Kwanzaa, Christmas and New Year's. And you know what that means — entertaining, hosting, baking, cooking and spending quality time at home with family and friends.  If you only did surface cleaning, fall is the perfect time for a deeper clean.  By tackling "spring-cleaning" projects in the fall, reduces  stress come holiday time.  Instead of doing the mad-dash cleaning at the 11th hour, you can do light cleaning a few days prior.  So think ahead and prepare now with a "fall cleaning" checklist:
Bedroom:
Vacuum under the bed and under all furniture.
Launder winter bedding before putting it on the bed.
Vacuum and flip the mattress.
Have the carpet cleaned and launder any throw rugs.
Empty the closet and sort summer clothes before storing them away. While the closet is empty, vacuum and dust the baseboards.
Bathroom:
Treat any mold or mildew in the shower.
Clean out the cabinets and properly discard out-of-date products.
Wash or replace shower curtains and bathmats.
Clean and disinfect all fixtures including switch plates and doorknobs.
Clean the toothbrush holder and replace all toothbrushes.
Living Areas
Vacuum all upholstered furniture, including under the cushions.
Clean and disinfect all keyboards, remotes, and electronic devices.
Dust baseboards, tops of furniture, and books.
Clean walls and remove scuffmarks.
Clean wood floors, rugs, and carpet.
Kitchen:
Empty and clean the pantry and organize the items you put back in. Make a list of holiday baking supplies that you will need for holiday baking.
Clean the inside of the oven, vent hood and microwave.  JAWS Kitchen Cleaner is great for vent hoods and microwaves.
Clean the refrigerator and freezer and expired items. Pull the refrigerator out and vacuum behind. Be sure to dust and clean the refrigerator coils.
Fall season conjures images of pumpkins, apple cider, football games and falling leaves. A fall cleaning checklist can also conjure images of clean, warm and organized homes.