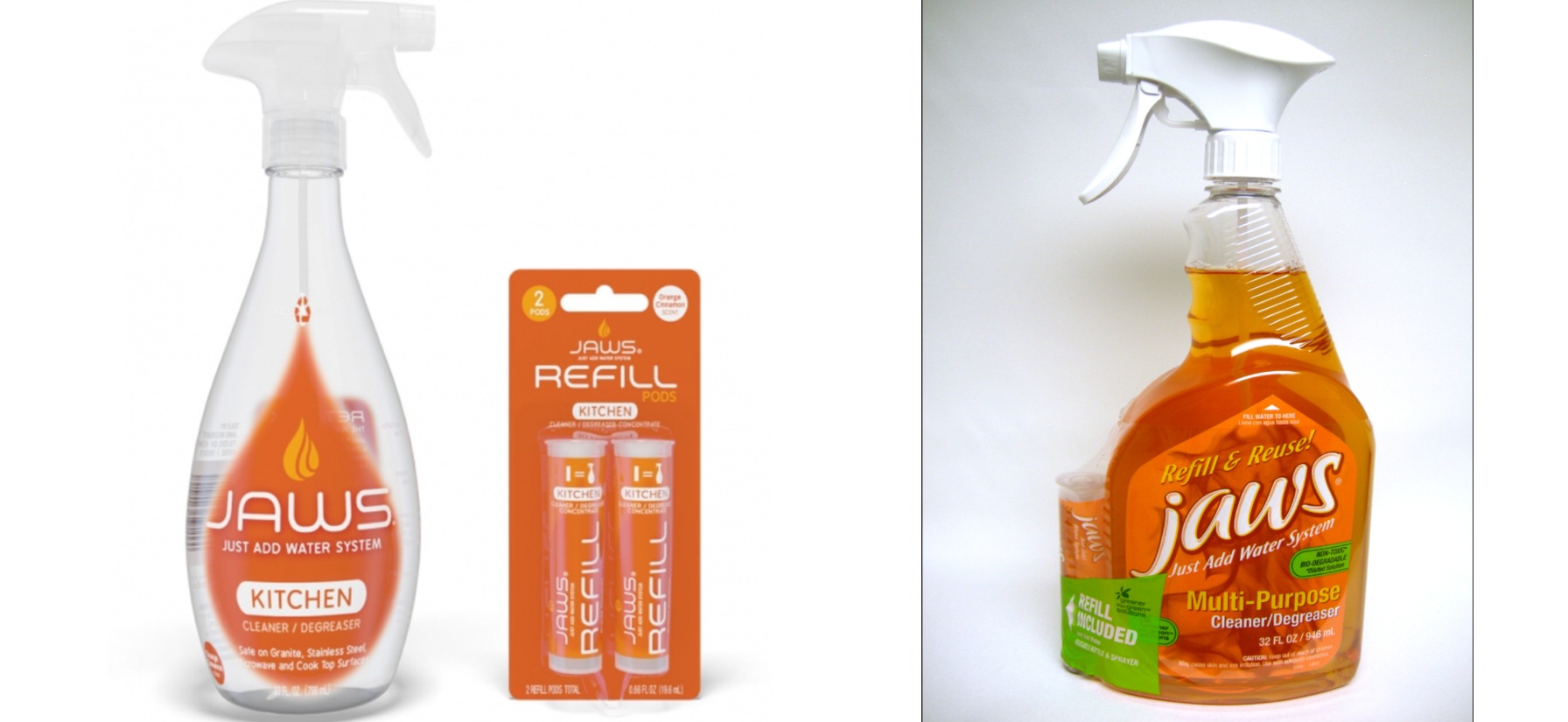 JAWS Cleaners – The Original Refillable Cleaning Products
For a long time, household cleaners were pretty uninspiring. Cleaning our home or office is just a routine and not many people think or care about the cleaner they're using. To try to stand out, brands began advertising miracle solutions to the toughest messes, stains, and grease and grime. The one thing all these spray cleaners have in common: Water is their number one ingredient.
At JAWS Cleaners, we saw this as an opportunity to improve upon a mundane product. We were the first company to package concentrated cleaning products in a convenient cartridge designed for use in a refillable bottle. Simply fill the JAWS bottle with water, insert a concentrated refill pod, and make a new bottle of cleaner you can help reduce the need for single-use plastic containers and save some money in the process.
In 2009, JAWS started manufacturing a pod cleaning system for the home consumer. We're100% online and on-demand! We even offer a subscription service so your cleaners will be delivered at regular intervals so you won't find your bottle empty when you most need a cleaner.
Using our reusable containers and concentrated refill pods, you can create an effective cleaner for just about any surface your home. Just fill your bottle with water, insert concentrated cleaner, and you will have the perfect alternative to anything bought in the store.
Our eco-friendly cleaning products also help save on plastic, by reusing your bottle over and over again. JAWS concentrated cleaning products and can also be conveniently delivered to your door.
Help modernize your home or office by switching to concentrated cleaning products that are easy on the planet and your wallet. Our products are guaranteed to work as well or better than the competition, and will help keep all of your spaces clean and inviting.
For more information about our extensive line of concentrated cleaning products at JAWS Cleaners, visit our office at 3610 N. Holland-Sylvania Road Toledo, Ohio 43615, or fill out our contact form to request a free quote.