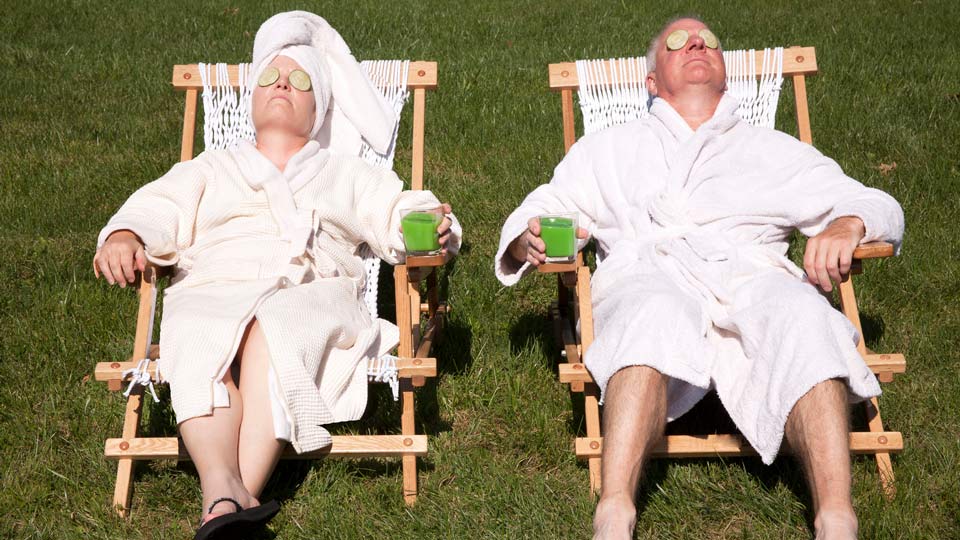 One of the best things about packing up and going on vacation is the change of scenery. It's easy to relax when you're away on vacation, so if you want to pull off a relaxing staycation, you may want to try to make your home feel like a home away from home.
Here are a few ideas to turn your home into a staycation retreat:
Live outside as much as you can - on the patio and in your yard. 
Add a water fountain to your patio.  Not only is the sound of flowing water relaxing, it attracts the birds and other wildlife which is relaxing to watch.
If it's not too hot, open up the windows and enjoy the gentle breeze, chirping birds, crickets and other sounds of summer. 
Add solar lights around your patio and yard, or string lights between your tress and enjoy the outdoors late into the evening.  
Plan a stargazing night.  Lying in the grass or in the back of your truck while staring up at millions of stars will relax you and fill you with wonder.
Build a bonfire.  Roast s'mores.  If you have a musician in the family, sit around the fire and play your favorite music.
Get the old board games out of the closet or set out a deck of cards and enjoy an evening of games with your family and friends.
Drink your morning coffee and enjoy your meals outside on the patio.  
Shop for produce at local roadside stands. It's a great way to eat fresh and "local".
Add a vase of flowers to your kitchen or patio table– it's even better if you picked the flowers from your yard.
Set the books out that you've been meaning to read so you actually get around to reading them.
Position a big umbrella near your lounge chairs so you can lounge in the sun or in the shade. 
Hang a hammock between your trees for and enjoy an afternoon nap.
Live in your shorts, yoga pants or flip-flops or anything that says "rest" or "vacation life" to you. 
Turn off the news.  Give yourself a break from the negativity and watch feel good movies or old sitcoms instead. 
Put snacks and drinks out in visible places (like you see in hotel lobbies or an Airbnb).  Treat yourself to snacks that you don't normally indulge in.
Pick up an old hobby that you used to love and see if you can spark the passion you once had. Whether Painting, knitting, playing the guitar or gardening, find the joy in it again.   
Try those "fancy" drink recipes you see in magazines but don't usually indulge in unless you're at a party or traveling.
Play relaxing music in the background – inside and outside.
Maybe you want a little adventure?  Check out the small towns around your city.  Try a new restaurant you've heard about or visit the local boutiques you don't usually shop.   
Take a hike or enjoy a walk in a nearby park. Pack a lunch and enjoy a picnic with your family.
If you live within close driving distance of a river or other body of water, get out there on a canoe or paddleboard—maybe even rent a water craft.
Dig out some of the old boxes in your storage closet and go through them.  Not only will you have fun reminiscing about your past or family history, you can get rid of items that you no longer want.  
Take a break from cleaning.  Just keep an all -purpose cleaner, like JAWS Multi-Purpose Cleaner and paper towels handy so you can quickly wipe up any spills.  The rest of the cleaning chores will be there when your staycation is over. 
Wrap up your vacation with a cleaning service to clean your house from top to bottom so you can go back to work rested and ready.
Relax and Enjoy!