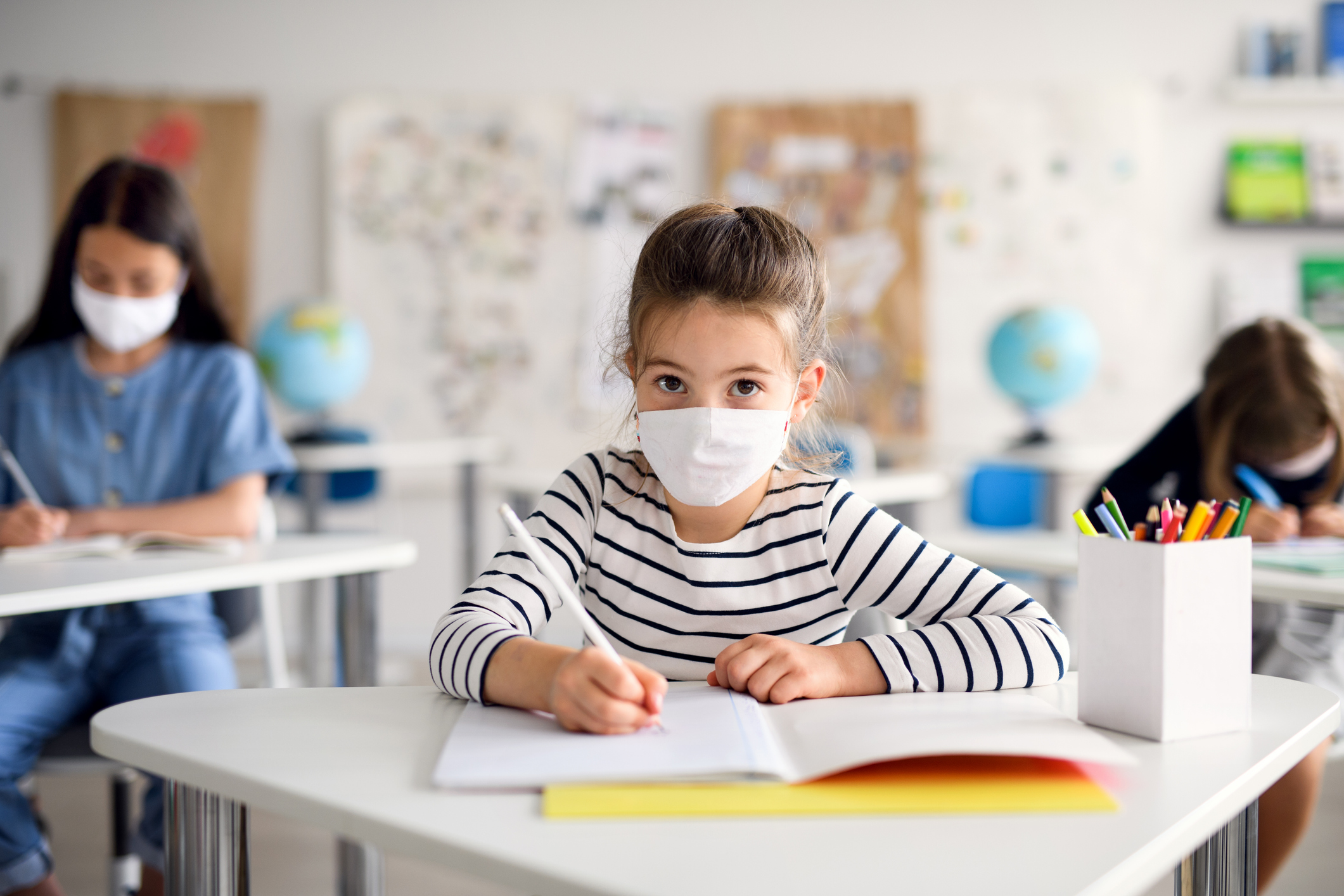 It's Back-to-school time. Traditionally, excitement and anticipation fill the air when we go back - but this year is a little different.  Whether you're sending your kids back to the classroom for in-person learning, adapting to a hybrid model of in-class and remote learning, or going completely virtual, you will want to implement safety pre-cautions.
We certainly can't control all variables, but as we venture back out into public spaces, we can take steps to reduce our exposure to the virus – at home and away.
Masks  -  Assuming masks are required in some capacity, make sure each family member has a mask for every day of the week.   Place clean masks in a location that is easily accessible – preferably near the entrance so it is easy to grab one on the way out the door.  Also, place a collection basket near the entrance of your home so upon return home, the masks can be collected, laundered and ready-to-wear the following week.  Consider placing an extra mask or two in your children's backpacks and in all your cars in case they forget to grab one when they leave home. 
Backpacks and Shoes - Before entering your home, remove back packs, purses, and shoes and leave them at the door.  Most likely you set your back pack or purse down during the day, and you don't want to carry in any germs – so leave them at the door.  Consider spraying a disinfectant on the soles of your shoes to kill any germs that may have collected on your shoes, and leave them in the garage.  You don't want the kids tracking in germs from the school into your home. 
Back to College - Don't forget your kids heading back to their college dorm or off-campus apartment.  Send them back with an easy-to-use, easy-to-store Disinfectant like JAWS.  They can clean and disinfect in one easy step.  Simply spray, let it set, then wipe clean.  There are no promises they'll use it, but at least you can take comfort in knowing they have it.
Disinfectants and Wipes - Wipes? Who are we kidding?  It's been a challenge to find wipes this year.  Traditional spray disinfectants work just as well, if not better.  Just be sure when purchasing a disinfectant spray cleaner to look for an EPA Registered disinfectant that is on EPA'S List N.  All products on this list meet EPA's criteria for use against SARS-CoV-2, the virus that causes COVID-19. 
As we see increased usage of Disinfectants and wipes at home and away, it is a good idea to store back-ups. Multiple JAWS refill pods are very small and can easily be stored in drawers, purses or backpacks.   
Disinfectant High Touch Surfaces - When we think of disinfecting, we usually think of kitchen countertops and bathrooms, but it's important to disinfect high-touch surfaces in your home such as door handles, appliances, remote controls, game consoles, keyboards and touch screens.   
If you're driving the neighborhood car pool, keep a disinfectant and roll of paper towels in your car to disinfect door handles, safety belts, steering wheel and dash buttons.  Consider rubber floor mats instead of carpeted mats, so you can clean and disinfect them regularly.
Be sure to always read the label and follow the manufacturer's instructions.  With most Disinfectants, you should spray and allow it to sit for a few minutes before wiping it to kill the viruses and bacteria. 
And don't forget…. Wash Your Hands!