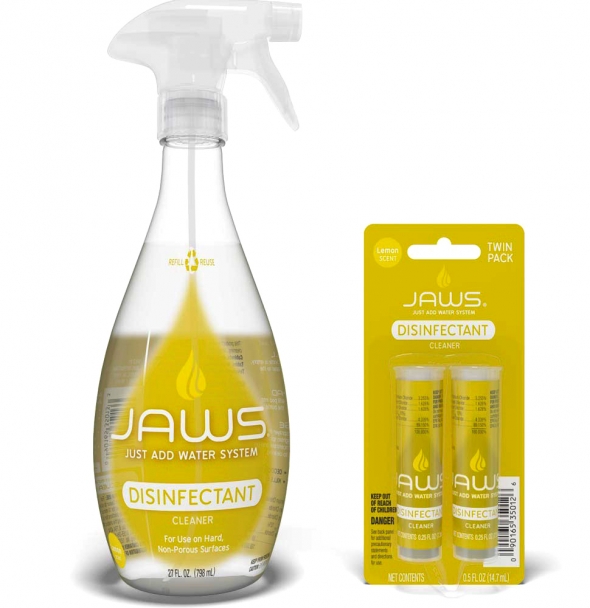 A lot has happened In the last few months that has changed the way Americans, and consumers around the world, think about cleaning, shopping, and protecting their families. The places we visit every day, and the items we touch have taken on new context in our minds now that we know the risks they pose. A regular trip to the supermarket is not so regular anymore. It possibly one of the most dangerous places we visit. The front door handle is no longer just the gateway to our house- now it's a potential pickup point for a viruses.
Covid-19 brings numerous new challenges into our lives and American companies have scrambled to help us overcome them. JAWS International is one of those companies. Based in Toledo, OH, JAWS has been redefining household cleaners for over a decade. JAWS, short for Just Add Water System, is the original refill pod cleaning system. Recognizing that cleaning chemicals are mostly water, JAWS offers concentrated cleaners, in an easy to use system of refillable bottles and refill pods. Why ship water when consumers can add their own? (Company mission statement in your own words)
This simultaneously addresses the problems of carbon pollution and plastic waste by cutting down on shipping weights and reducing disposable, single use bottles. The easy to use, closed loop system includes premeasured concentrated pods - there is no measuring, pouring or spilling like other concentrated cleaners on the market. JAWS offers a full line of cleaners for different purposes- a glass cleaner, kitchen Cleaner, hardwood floor cleaner, and Daily Shower Cleaner that are all Safer Choice Registered Products. (For more information on Safer Choice) Additionally, JAWS offers the all-important Disinfectant. It is a no-rinse disinfectant that cleans, disinfects and deodorizes in one labor saving step. JAWS Disinfectant Cleaner kills 99.9% of viruses and bacteria.
When the novel coronavirus arrived, JAWS was already being shipped directly to homes around the country. What could be more perfect than a cleaning product that can disinfect your home and doesn't require you to leave home to get it?
JAWS Disinfectant Cleaner is an EPA registered product (EPA Registration #1839-166) and has demonstrated effectiveness against viruses similar to SARS-CoV-2 on hard, non-porous surfaces. Therefore, JAWS Disinfectant Cleaner can be used against SARS-CoV-2 when used in accordance with the directions for use against Human Coronavirus.