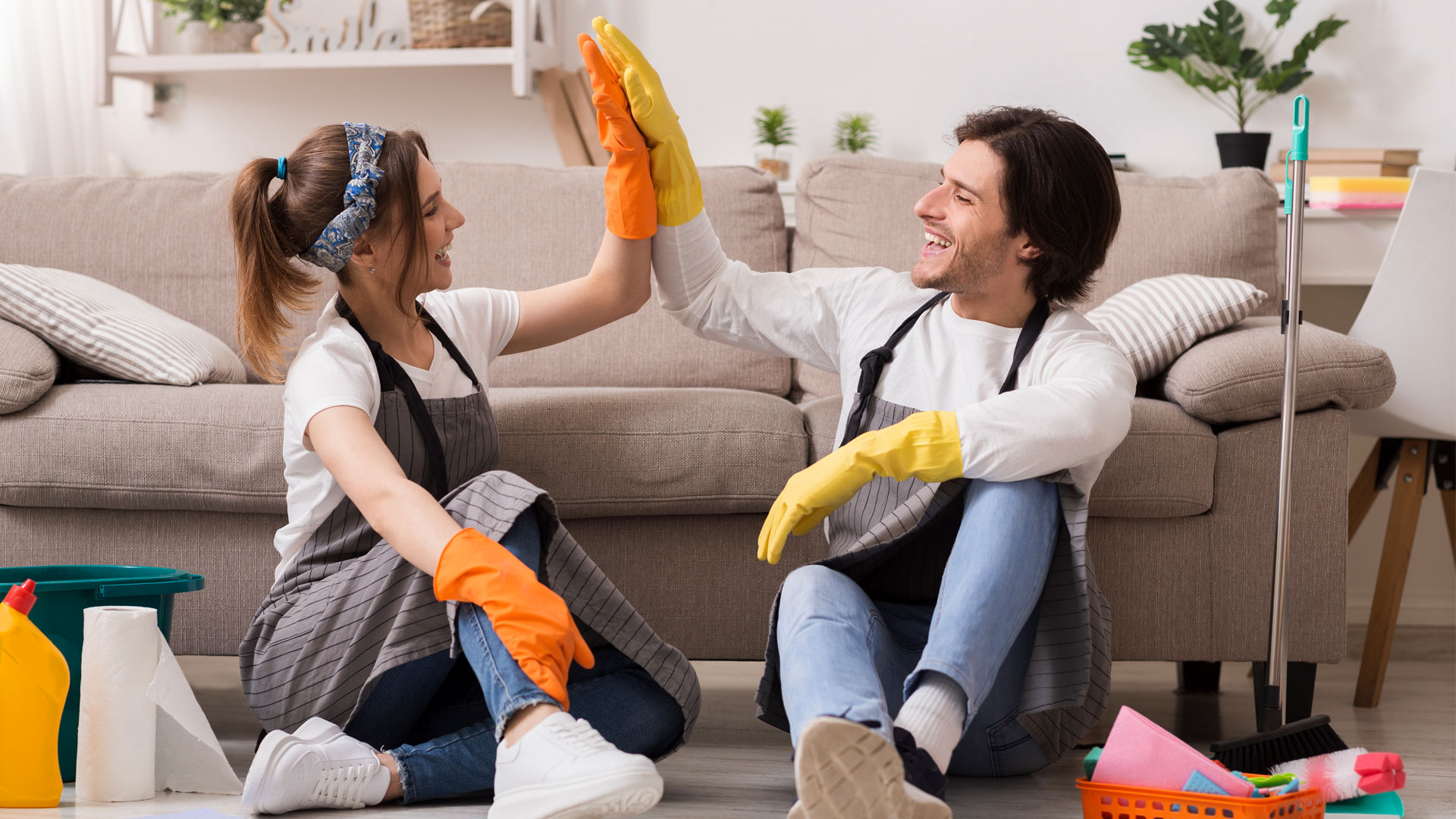 Longer days, budding trees, and blooming flowers: It's time to open the windows, grab your cleaning supplies and start the big spring clean.  Spring is a great time to tackle those areas you overlooked or put off doing during the rest of the year.  Here are 18 tips for an effective spring clean. 
Windows - Cleaning the windows inside and out is one of the first signs of spring.  For the best results, clean them on a shady day with a non-streaking Glass Cleaner, and wipe them dry with a micro fiber towel that has not been washed with fabric softener. 
Window Screens - Remove the screens and spray them down with JAWS Glass Cleaner.  Then hose them off and let them dry in the sun.  Not only does this clean the dust from the screens, it helps bring back some of the shine to the screens.
Ceiling Fans and Light Fixtures:   Grab an extendable duster, or vacuum extension and dust the ceiling fans, hanging and recessed lights, moldings, and doorframes.  Run a dust cloth across the top and inside the frames wall hangings.  
Overhead Light Fixtures:  Remove the cover, toss the dead bugs, and wash the fixture.  Not only will your fixtures be cleaner, your lights will shine brighter.   
Curtains - Dust collects on curtains and drapes too. If you can't wash them, then toss them in the dryer for 15 minutes on the "air-only" cycle, then rehang immediately to avoid wrinkles.
Bedding - It is a great time to freshen up your pillows, comforters and mattress pad covers.  Make sure you check the manufacturer's label before tossing them into the washing machine. 
Pet's Bed - Don't forget your pet's bed - it can be a source for dust mites.  If possible, clean the bed in the washing machine on the highest setting possible.   If it's not washable, place outdoors in the hot sun or freezing cold.  When vacuuming, be sure to vacuum in and around the bed.  
Mattress -  It's the perfect time to pay attention to what's under the bedding. Use your vacuums upholstery and crevice tools to clean the top and sides.  If you have a soft surface disinfectant, it's a great time to disinfect your mattress.  
Throw Pillows - They look great and add comfort and warmth to your home.  Whether displayed for decoration, or actually used to rest on, they can be breeding grounds for dust mites.  Toss them in a hot dryer to kill the mites, or place them outside in the hot sun or in the freezer to kill them. 
Kitchen Trash Cans -  Disinfect your trash can with a disinfectant cleaner.   Spray the surface, let it sit a few minutes, and then use a soft microfiber cloth to clean every crevice.  Don't overlook the hinges, lid and foot pedal.   
Kids Toys - If you have a toy box full of plastic children's toys, thrown them in the dishwasher for a quick clean.  Just choose the delicate or cycle and skip the heated dry.  If too big for the dishwasher, use a spray Disinfectant Cleaner to clean and disinfectant, then rinse with water. 
Closet -  It's that time of year again to go through your clothes and shoes and remove anything that no longer fits, is out of style, or is worn out.   Be sure to go through your spring and summer clothes as you take them out of storage.  Before putting anything back in the closest, run the vacuum, dust the baseboards and light fixtures.  Try on anything you're unsure about before putting it back in the closet. 
Washing Machine - Before you start to notice an odor in your washing machine, freshen it up by using a washing machine cleaner and turning on the special cleaning cycle on your machine.
Dryer -  Beyond removing the lint from your dryer's filter after every load, pull out hard-to-reach lint with the crevice tool on your vacuum to suck up debris. Vacuum under, around, and behind the dryer as well.  Be sure to check the outside exhaust and remove any lint that is trapped  - this will help prevent dryer fires. 
Patio Furniture - With warmer weather on the horizon, it's time to get your outdoor furniture ready for lounging. JAWS Kitchen Cleaner or Multi-Purpose Cleaner work great to remove dirt, dust and winter build up from outdoor furniture.  Spray them down with cleaner and wipe the dirt away.
Junk Drawer - We all have a catch-all drawer in the kitchen.  Take time to empty it out, suck out the dust and crumbs with your vacuum's attachment, and wipe it down with a disinfectant or an all-purpose cleaner. Toss or relocate any items you no longer need or that do not belong there. Then put everything else back in an organized manner.
Refrigerator -  In addition to wiping down your fridge's interior shelving on a regular basis, give the removable bins and shelves a deep clean. Pop out the door shelves and bins and wash to get rid of food bacteria and spillage.  Spray and wipe clean the inside walls and handles with JAWS Kitchen or Disinfectant cleaner.  Don't forget to empty the ice and clean the bin. 
Knick Knacks and Collectibles -  They look great but may need a good dusting.  Take a dust rag to the inside of vases and other collectibles where dust settles.
Enjoy your Fresh Spring Clean!