Keep your home – and the environment – clean.
With the JAWS® Home Cleaning Kit, you'll have eco friendly refillable cleaning products to keep every surface in your home clean, while you keep plastic waste out of landfills.
With this kit, you'll get: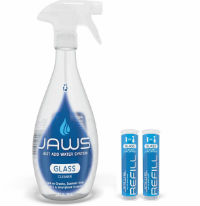 The JAWS® (Just Add Water System™) glass cleaner was the single cleaner among 17 other cleaning options that left no streaks behind in a test performed by The Good Housekeeping Institute.  This is an EPA Safer Choice Certified product.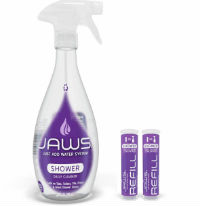 This is quick acting bathroom cleaner emulsifies and dissolves water spots, mineral deposits, and soap scum. It leaves in its wake a haze-free, streak-free shine.  This EPA Safer Choice Certified product effectively removes odors around floors and toilets. It is the perfect option to combine with a disinfectant product. It also produces a pleasant and light citrus floral fragrance.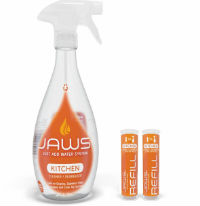 This is a fast-acting degreaser for use in kitchens that leaves a streak-free surface without damaging modern surfaces such as stainless steel and granite. It is also highly useful for cleaning barbecue grills.  EPA Safer Choice Certified.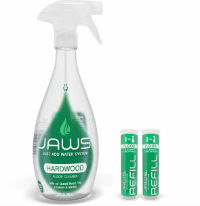 This cleaner is excellent for most types of tiling and flooring in addition to shelving, tables, and sealed wood cabinets. It is a neutral pH cleaner that removes grime and dirt without producing hazy residue or streaking. It is safe for the family, your pets, and your floors.  EPA Safer Choice Certified.
Purchase Today!
Our Home Cleaning Started Kit with cleaning product pods is a great way to get started with our cleaning products! Order your JAWS® Home Cleaning Kit right now!
All four products in this kit have the Safer Choice label.
Order JAWS JAWS® Home Cleaning Kit
* Refill pods are patented and work with JAWS bottles only.