Our JAWS Cleaners are eco-friendly, biodegradable and non-toxic cleaning products. You might think that products that are both environmentally friendly and practical will break the bank. Happily, that couldn't be further from the truth. The cost effectiveness begins with our reusable bottles – which can be reused up to 26 times! And JAWS Refill Pods are priced at only $3.99 for a pack of two – meaning a new bottle of cleaner is less than $2.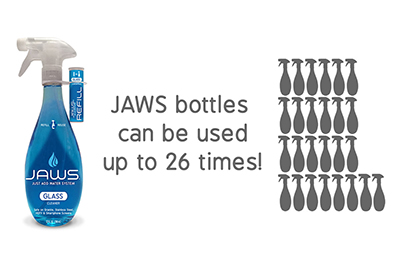 Easy to Use
It's really simple!  JAWS stands for Just Add Water System, and that's all you will need to do!  When your bottle is empty, just add water, insert a JAWS Refill Pod and twist the sprayer back on to make your new bottle of cleaner. It's also easy to find JAWS Cleaners. You can order directly from our website, Amazon.com or find us at many major retail locations.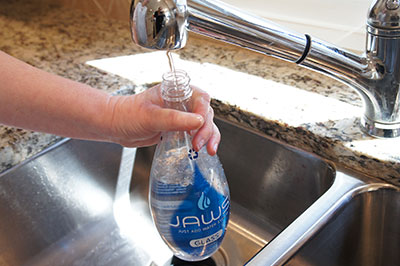 Non-Toxic Cleaning Products
JAWS Clenaers are practical and responsible.  Our biodegradable, non-toxic cleaning products are powerful and are able to bust through even the toughest mess that might gunk up your day.  At the same time, we don't use any harsh chemicals and our products are alcohol and ammonia free.  This means you can keep your house clean and have the peace of mind that you are not being exposed to harmful substances.  Our products have been tested and are proven safe for use around both children and pets. The fact that we don't use harsh chemicals in our products also means that we are easy on the environment. If staying "green" is important to you, you should check out JAWS Cleaners.
JAWS Refill Pods contain the same streak-free formula and are cost-effective, which is an important advantage for cleaning products you use on a daily basis. Since we use a concentrated refill pod system, our products cut down on waste, saving money, and sending less plastic to the landfill.
JAWS Cleaners is on the cutting edge of non-toxic, eco-friendly cleaning products.  Invite our products into your home today: you will not be disappointed in their performance!